A delegation of the Euro-Asian Jewish Congress and the World Jewish Congress visited Georgia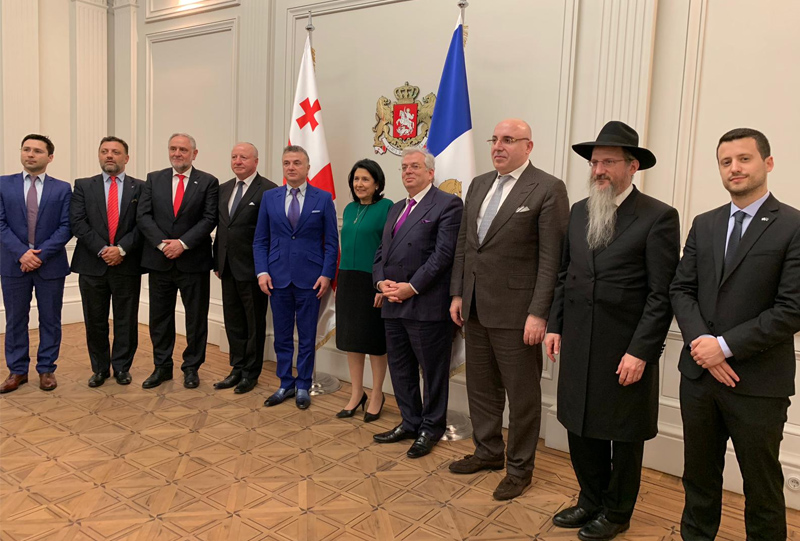 [vc_row][vc_column][vc_column_text]
A delegation of the Euro-Asian Jewish Congress and the World Jewish Congress led by EAJC President Mikhail Mirilashvili held warm and productive meetings Prime Minister Mamuka Bakhtadze and the President Salome Zourabichvili.
Other members of the delegation included Robert Singer, WJC CEO & Executive Vice President, Aaron G. Frenkel, Chair of EAJC Governing Board, Temur Ben Yehuda (Khikhinashvili), EAJC First Vice President, Dr. Haim Ben Yakov, EAJC CEO, and Berel Lazar, the Head of the rabbinical Council of the CIS, the Chief Rabbi of Russia.
The talks focused on a range of topics, including the coexistence of Jews and Georgians for 2,600 years, their shared culture and value of tolerance, and the strong relations of the Georgian Jewish diaspora with the community that remains.
The delegations also discussed the excellent bilateral relations with Israel and the need to enhance it even further, and UNESCO's recognition of the long Jewish presence in Georgia. They also spoke about tourism of Georgians in Israel, and Israelis in Georgia, and pride in the new Jewish school that recently opened in Tbilisi. The delegations also said that they were looking forward to enhancing business and economic opportunities of Georgia and Israel.
The delegation was also privileged to take part in the opening ceremony of the Jewish school in Tbilisi, which was funded by EAJC. The school will serve as a significant symbol of cultivating the Jewish future within Georgia
EAJC President Mikhail Mirilashvili: "it is heartwarming to see the strong relations of the Georgian government with Israel and world Jewry. Georgia has always been tolerant and welcoming to its Jewish population, which is greatly appreciated. EAJC will gladly support the initiative of commemorating Jewish life in Georgia together with WJC and UNESCO".
EAJC Chair of the Governing Board Aaron G. Frenkel added: "we are pleased to learn of the enhancement of tourism, trade and commerce between Georgia, Israel, and the Jewish people, something which can set as an example to many more regions in the world".
[/vc_column_text][/vc_column][/vc_row]